Adding Employees (Cloud Pro)
To add employees, login to Timedox and create a profile for each employee (Employees > Employee Management > Add New).

Once the profile is saved, employees will automatically sync to the device(s) connected to the department.

Please refrain from adding employees directly on the device. Employee data will be administered through the website. The only employee details that you are required to enter on the device are biometrics, such as fingerprints or face profiles. PIN Codes, Proximity Cards and Mobile Reporting should be configured on us.timedox.com under 'Employee Management'.
---
2. Click Employee Management under the Employees menu

4. Enter the employee's name and click Save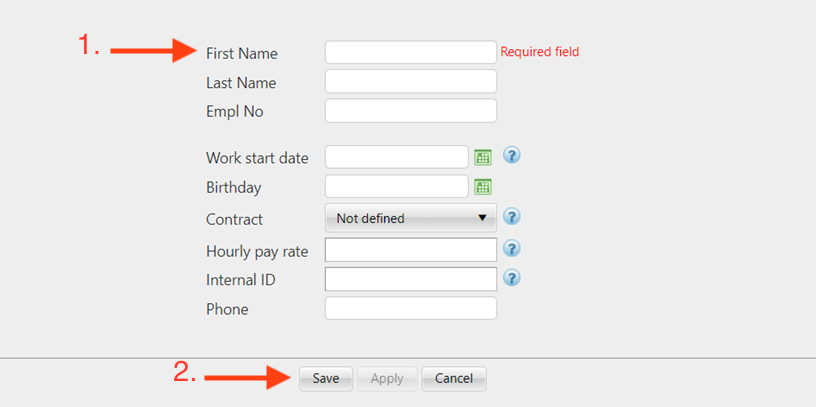 5. Newly added employees will automatically sync to your Timeclocks
6. Enroll
Biometrics
on the device. Main Menu >
User Mgt
>
All Users
> Employee Name >
Edit
---

**It can take up to 15 minutes for new users to sync to your devices**
Related Articles

Adding Employees (Cloud Lite)

This guide is for Lite accounts. Pro accounts click here To add employees to your Timeclock, you can utilize the User Mgt menu which allows you to view and manage user information such as ID, name, user role, fingerprint, badge number, card, ...

Assign Website Access to a User

Sign in to Timedox 1. Hover over Employees and click Employee Management 2. Double click an employee name 3. Click the Website Access tab 4. Type a username, password, and email 5. Click Save The capability of the user depends on their ...

Scan Fingerprints (punching methods)

Adding a User (LITE) Enrolling Fingerprints (PRO & LITE) Entering a User ID (LITE) Enrolling an ID Card (LITE) Enrolling a Password (LITE) Enroll a Photo