Adding Employees (Cloud Lite)

This guide is for
Lite accounts
. Pro accounts click
here

The following you help you add employees to your Timeclock. In the User Management menu, you can browse the user ID, name, user role, fingerprint, badge number, card, password, user photo; add, modify, or delete the user information.

For new employees to show up on us.timedox.com, you must enroll them on the device first and perform a manual upload to the website. On the website you can add employee data (Names, Pay Rate, Email, Etc.) under Employees > Employee Management
---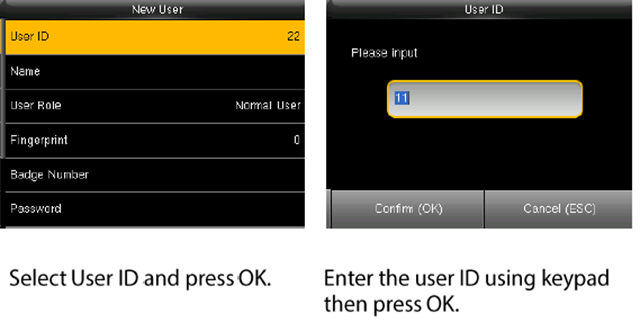 Related Articles

Adding Employees (Cloud Pro)

To add employees, login to Timedox and create a profile for each employee (Employees > Employee Management > Add New). Once the profile is saved, employees will automatically sync to the device(s) connected to the department. **Note: Do not add ...

Scan Fingerprints (punching methods)

You can change how an employee clocks in by adding additional fingerprints, badge, face scan, or password 1. On the clock, press M/OK to access the main menu 2. Select User Mgt. and press M/OK 3. Select All Users and press M/OK 4. Highlight the user ...

Fingerprint Unrecognized or Not Scanning

If your device is unable to scan fingerprints, try the following steps: Power Cycle the Device (turn it off the back on) Power cycle the device by unplugging it from power then plug it back in. A simple reboot usually resolves most issues. Register ...

Locking/Unlocking Device Menu (Cloud Pro)

How to set a Device Administrator (Cloud Pro) If you subscribed to our CloudLite platform please view this article instead By assigning a Device Administrator you are setting a lock on the time clock's menu. This will prevent anyone from accessing ...

How to Set or Change a Password

1. Sign in to Timedox (can't sign in? click here) 2. Hover your cursor over Employees and click Employee Management 3. Double click the employee name, then click Website Access 4. Enter a new password and click Save **If account is locked, please ...